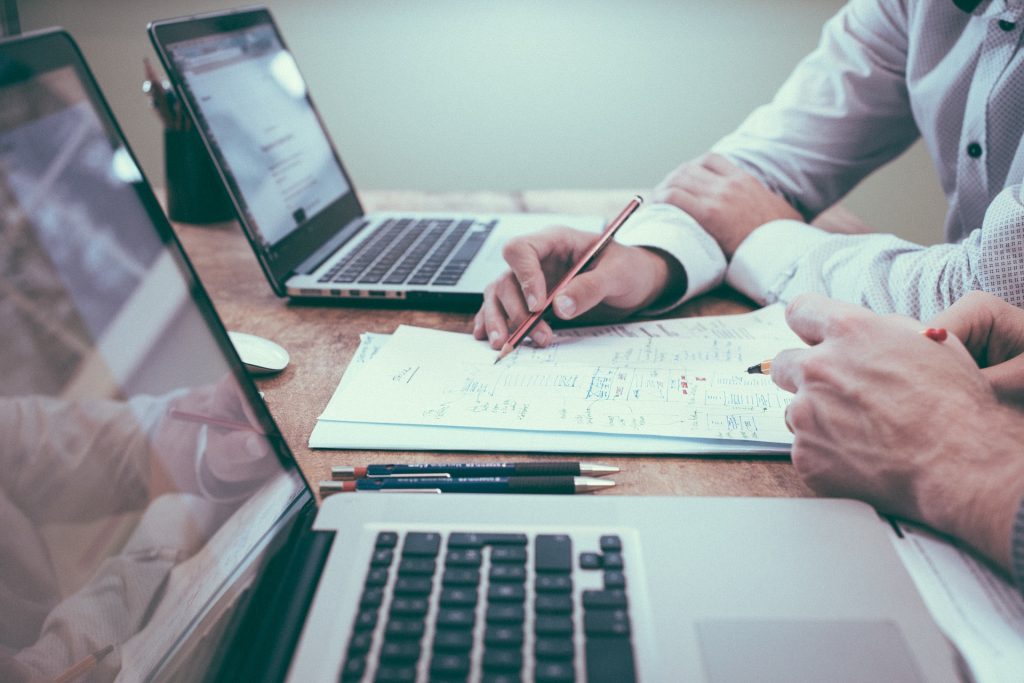 Part 2 of our visit report of Convergence 2015, Barcelona
21 december 2015
In this part of our visit report we'll discuss some of the (new) technologies that we've seen at Convergence 2015.
Dynamics CRM 2016
Microsoft Dynamics CRM 2016 is available per December 1st and it's all about Intelligent Customer Engagement. The clean and bright screens used during the demo make CRM 2016 feel like a  serious and flexible CRM software.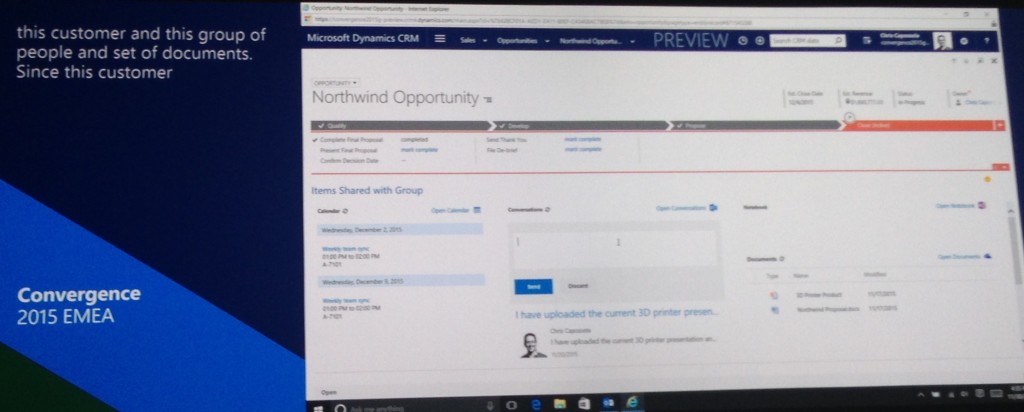 Next up, Ghislaine Prins of Heineken shows a video about the Heineken salesforce using  Dynamics CRM.
"I needed a salesforce automation solution for my field service/sales. It's not just about information, but also about insight, which we get through BI."
"One of our challenges was to create a template for this in a live environment of an international company, where both 'old' and 'new' technology are being used. When 'entering' a new country we perform an extensive business research. Using a good CRM/sales force automation helps the sales people to better serve the new and potential customers."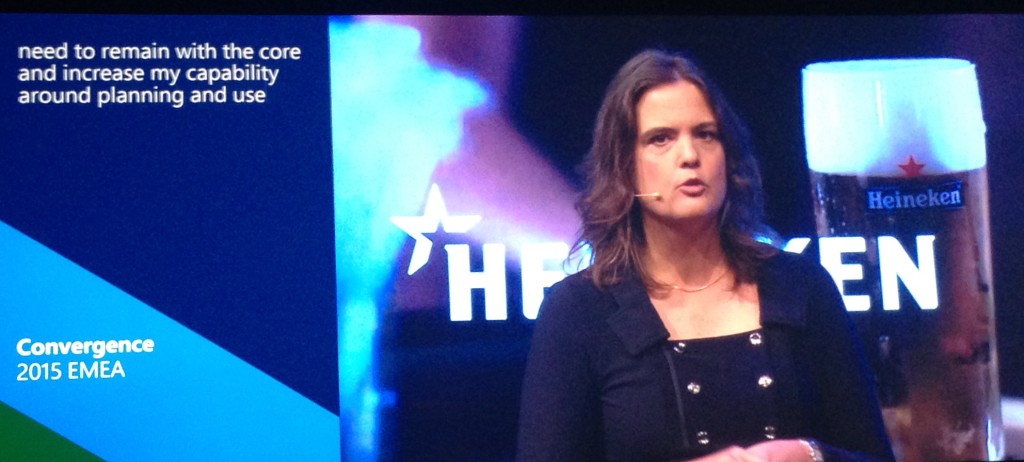 Skype for Business
In an all-live demo a Skype call is made with Andrew Wilson in Florida, who is the Chief Information Officer of Accenture. Fully integrated with Office 365 and shown in the live demo with multiple lines/people it works great. Normally I would say that Microsoft did a great marketing job, but this time I was really impressed with the quality and possibilities of Skype for Business.

Integrate
We visited two partner booths with an integration solution: Pylades with their Microsoft Dynamics AX/CRM Connector and Scribe with their Insight solution.
Pylades' Microsoft Dynamics AX/CRM Connector does what it's called; it provides you with a both-ways connection between Dynamics AX and Dynamics CRM. The big advantage of this connector is that you 'only' need AX knowledge, since the logic is 100% AX-based. It comes with standard templates and, should you have additional integrations wishes, you can create your own from scratch.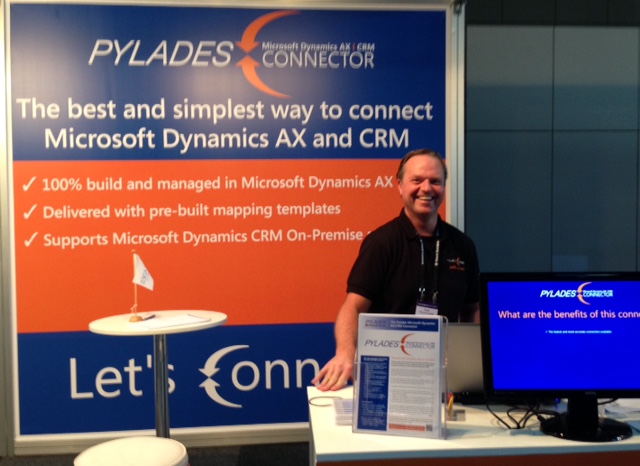 Where Pylades focusses on Dynamics AX/CRM, Scribe Insight has a broader view on application integration. Microsoft Dynamics, Oracle, Salesforce are some of the applications that can be integrated using Scribe Insight. According to Scribe, a person with no specific programming skills, but with  and some training should be able to design and deploy the required integrations, using the GUI.
Members
KPMG's Kees Brussen and Bryan Cruickshank on "How to create a platform of change". 
The business case is about KPMG's Dynamics for Membership for KNHS, an Equestrian Organization.


"In today's world, technology innovation is shaping the way organizations operate. Organizations are embracing transformative business change."
Powerrr..
(Power) BI in AX7 looks great and offers extensive possibilities to get insight in your organization. Still, native BI offers enough basic BI functionality to work with (all depending on the BI needs of your organization). One important difference is that native BI work 'as is', where Power BI offers personal visualization -> users can shape their dashboard in their own way, matching their BI needs. Then again, the Microsoft BI team is working hard on adding flexibility to the native BI tool.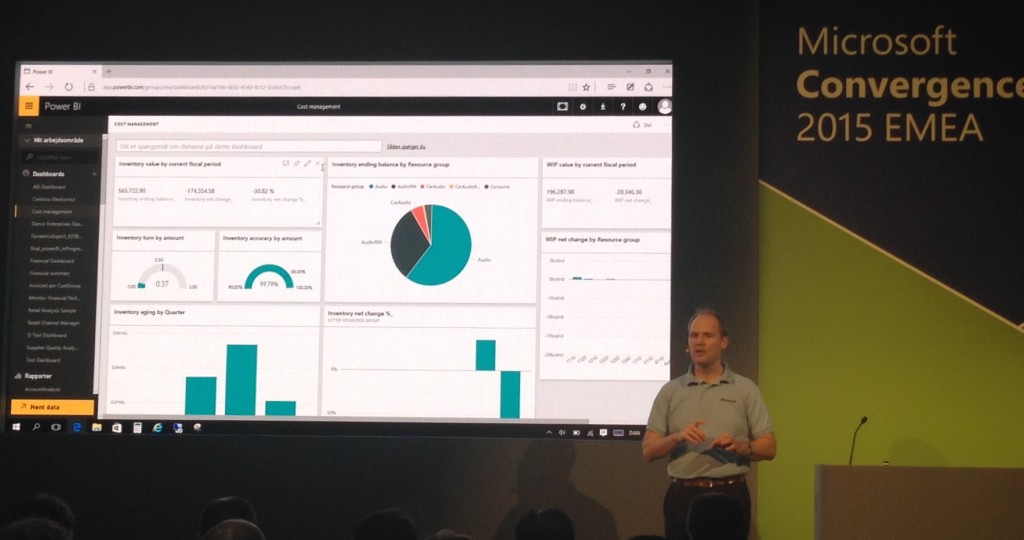 Audience questions:

Q1  – "Can you re-arrange everything in the workspace in native BI?" Answer –  "No, it is set to a standard, but can be configured."

Q2  – "What if I have external data, like from SAP?" Answer – "Power BI allows this through power query upload."
All in all a good session, too bad Anders experienced some technical issues with the VM, which limited the demo on multiple occasions.
Part 'X'
This concludes part 2 of our visit report of Microsof Convergence 2015 in Barcelona. Follow us on Facebook, Twitter or LinkedIn to stay updated on new reports and everything about ERP.
For questions regarding the Convergence report please contact us or post your comments at the bottom of this page.